Duchess Catherine is in Canada with Prince William for their first official oversees tour. And the crowd loves them, Will for his frankness, charm, and jokes about his French accent; Catherine though, for her amazing ability to be always beautiful and choose the right clothing choices for the right moments. She is a fashion diplomat, her clothing choices reflecting not only her own style but her awareness of the people around her. The Guardian has said of her:
"

During this, her first foreign tour, she has shown an impressive ability to use her wardrobe as a tool for doing what royals are supposed to do on foreign tours. Her clothes show respect, bring an emotional warmth that strengthens historic and strategic bonds, and send a positive message about the country and family she represents."
Below are several photos of her that serve to show just what an impact clothes can have, especially when worn by the Duchess of Cambridge.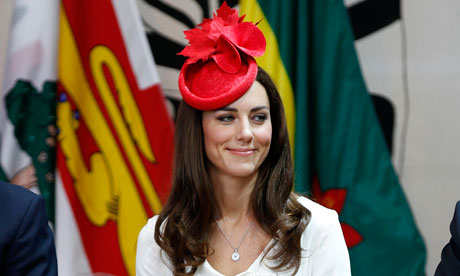 Kate wearing a maple leaf hat in a respectful nod to the nation of Canada.
Shown here with Prince William at a tree planting at Rideau Hall, Catherine is wearing a grey
Kensington dress by Catherine Walker, one of the late Princess Diana's favourite designers.
That was definitely a move of pure class.